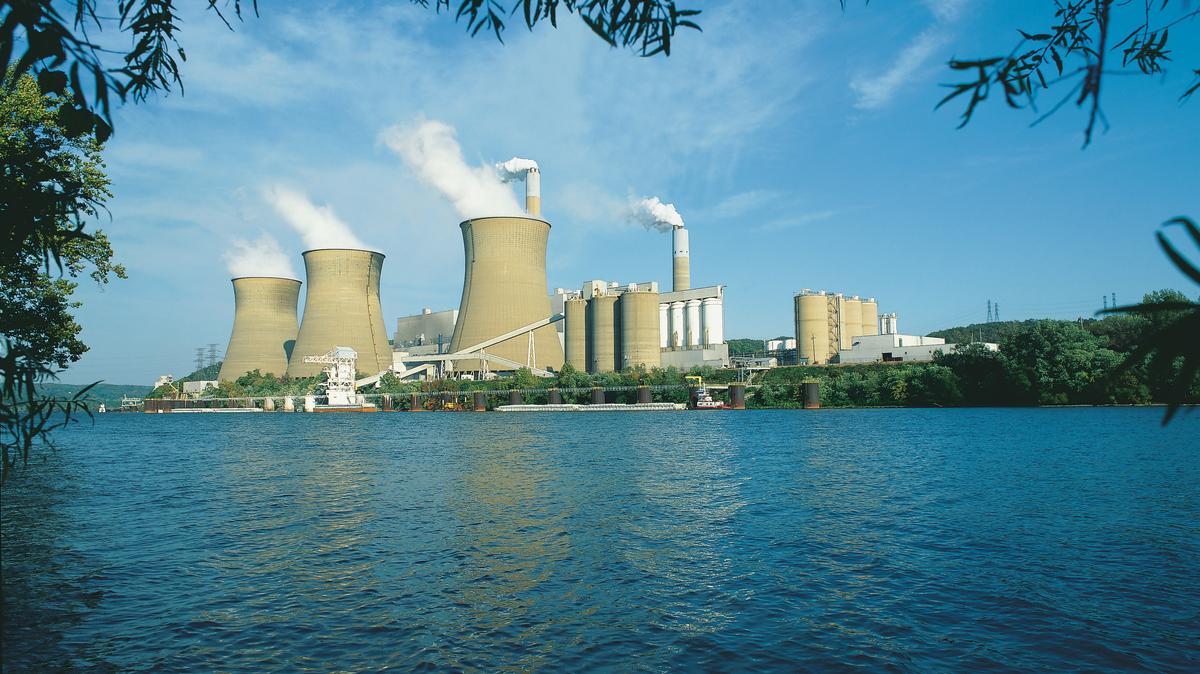 The Bruce Mansfield plant owned by FirstEnergy Corp. in Shippingport, Beaver County.
By Luke Torrance
Pittsburgh Business Times
Jul 8, 2019 – A federal appeals court has ruled in favor of about 230 union power plant workers in Beaver County, supporting the union's claim for $5.5 million in back wages.
In a decision filed last week in Cincinnati, the U.S. Court of Appeals for the 6th Circuit said that FirstEnergy Solutions Corp. had committed an unfair labor practice when it imposed a contract on the International Brotherhood of Electrical Workers Local 272 workers at the Bruce Mansfield coal-fired plant, located in Shippingport.
The contract between FirstEnergy and the union expired in 2014; after a year of negotiations, the company declared an impasse in October 2015. FirstEnergy implemented a contract that contained some previously discussed provisions, such as the elimination of retiree health subsidies for all in-the-box retirees by the end of the year. But provisions that the union had fought for, such as a wage increase, were not implemented, resulting in the union filing an unfair practice charge.
The judges wrote in their decision that FirstEnergy had linked wage increases as a way to offset the loss of retiree health benefits in multiple verbal and written offers. A similar conclusion was reached by the National Labor Relations Board in 2018, which found that the wage increases would allow employees to share in the cost savings from the elimination of retiree health benefits.
But the 6th Circuit judges overturned the NLRB's ruling that FirstEnergy was mistaken in subcontracting maintenance work during a routine outage, a decision that negate a potential $1.3 million in back wages.
FirstEnergy will have the option to appeal the ruling to the U.S. Supreme Court. A spokesman told the Pittsburgh Post-Gazette that the company is reviewing its options.
The Bruce Mansfield plant is the largest coal-fired power plant in the state and is slated to close in 2021. FirstEnergy Solutions, which operates the Mansfield plant along with a nuclear power plant in Pennsylvania, filed for Chapter 11 bankruptcy last year. If FirstEnergy decides not to challenge, the amount of back pay owed to workers will be hammered out in bankruptcy court.