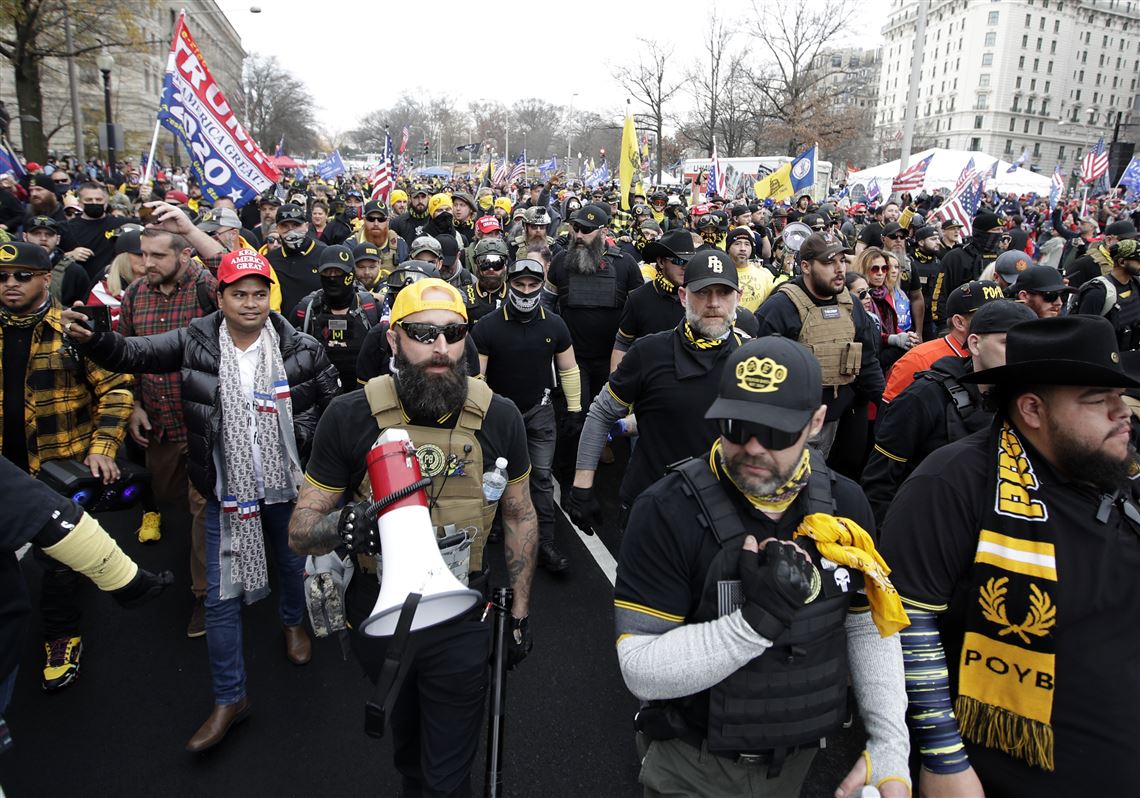 Every traitor who participates in Mr. Trump's failed coup attempt should be remembered.
By Tony Norman
Pittsburgh Post-Gazette Columnist
DEC 15, 2020 – Like the fashionable fascists they always strive to be, the contingent of Proud Boys who showed up in D.C. on Saturday to "Stop the Steal" stood out in the madding crowd of revanchist losers pledging their support to Donald Trump, who buzzed them from Marine One overhead.
Rocking black and gold down to the face masks only a few of them wore during the pandemic's deadliest week, and shouting "All Lives Matter" and "We are Proud Boys," they looked like a lost tribe of Steelers' fans, high on hate, trying to score meth outside the Smithsonian.
The Jericho March, as Trump-believers called it, was emceed by conservative talk-radio host Eric Metaxas. The two-fisted evangelical who announced earlier in the week that he would be "happy to die in this fight" for Trump, God, Jesus and liberty — pretty much in that order — did what Jesus surely would've under the same circumstances: He asked if anyone had a bazooka he could borrow to blow a news chopper out of the sky.
Over the course of the day, Mr. Metaxas welcomed a who's who of indicted, convicted, pardoned and guilty-as-hell scoundrels to the stage to ramble on about their love for "Dear Leader."
The disgraced but recently pardoned Michael Flynn was followed by the always disgraceful Alex Jones, who called Joe Biden a "globalist" and vowed that he "will be removed [from office] one way or another."
Recently pardoned fixer, dirty trickster and Nixon fetishist Roger Stone was there, as was "eccentric" former congresswoman Michelle Bachmann, who blathered on about a miracle that would soon confirm a second term for Mr. Trump. The list of guest speakers may have been the largest gathering of cultists, ravers and true believers since Jonestown.
Pennsylvania was represented on stage by "Mr. Piety" himself, state Sen. Doug Mastriano, R- Franklin County, who bemoaned the U.S. Supreme Court's terse dismissal of the Texas lawsuit that would've disenfranchised millions of voters in four battleground states, including Pennsylvania, as a "gut shot." But he vowed to fight on because, well, he's an irrational fanatic.
We should never forget that 18 attorneys general and more than 120 Republican House members affixed their signatures to an amicus brief asking the Supreme Court to grant Texas' request to invalidate the outcome of the election in four states that went to Joe Biden.
The following members in the House representing Pennsylvania went along with this mad scheme to disenfranchise their own constituents: Rep. John Joyce of the 13th Congressional District, Rep. Fred Keller of the 12th, Rep. Mike Kelly of the 16th, Rep. Dan Meuser of the 9th, Rep. Guy Reschenthaler of the 14th and Rep. Glenn Thompson of the 15th.
Continue reading

The Great American Coup Attempt of 2020