EVEN CONOR LAMB IS DONE WITH THE FILIBUSTER
The moderate Democrat says the Capitol riot changed his mind. Who's next?
BY MARY HARRISJUNE 10, 20211:12 PM
SLATE.COM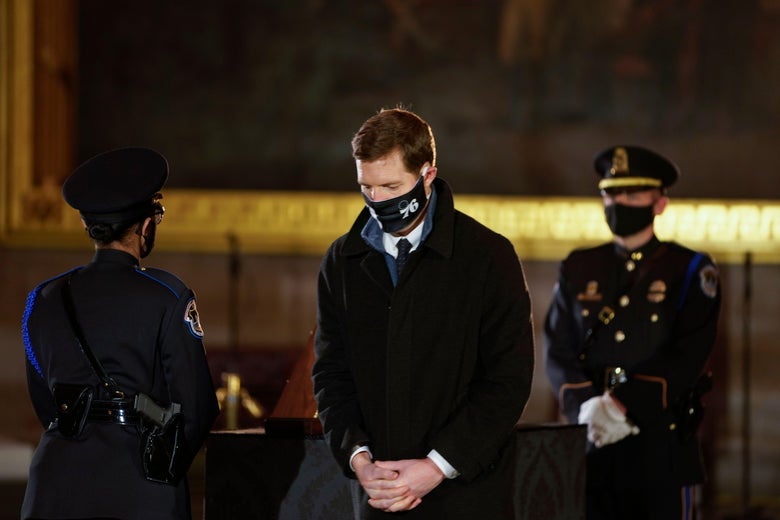 Some people call Democratic Pennsylvania Rep. Conor Lamb a conservative. He prefers to think of himself as a compromiser, a moderate in a polarized political world. Because he was first elected as a Democrat in a district that also elected Donald Trump, he's often seen as a bellwether, an object lesson in reaching the voters Democrats have lost ground with over the last few years. So it surprised me that Lamb recently got on Twitter to voice his support for blowing up the filibuster. After watching the bipartisan push for a Jan. 6 commission fail spectacularly, Lamb says he felt like he had no choice—"the filibuster has to go." On Thursday's episode of What Next, I spoke to Lamb about why he's taking this stand now, and what compromise means when there are fewer and fewer people to compromise with. This conversation has been condensed and edited for clarity.
Mary Harris: Right now the project of democracy is being politicized. Reforms that will increase the democratic project are seen as progressive or left-wing. But you're trying to separate that out from your stances on issues like the environment or the economy. Are your constituents separating them out too? When you talk to them about the democratic values that you clearly hold, do they see those as apolitical values?
Conor Lamb: I think it's still a little early in this process. I've noticed Washington, D.C., always moves a lot faster in conversation than people back here in my district, and so I am now every day on high alert for what's happening to our democracy and what's happening in these different states, and I'm not sure that the average person in my district is yet, particularly because you're in Pennsylvania. We more or less are at a stalemate because we have a Democratic governor who's not going to allow the legislature to do all these crazy things they're doing elsewhere.
Even though the legislature is Republican-controlled.
Yes. And they have tried. We just had a bunch of state legislators travel to Arizona to watch the phony recount. But I can say with a lot of confidence, having got to know my constituents over the last three years, that they would expect me to continue working for achievements and compromises on issues like infrastructure, even as we debate the fundamental issues of our democracy. And that actually makes sense to me
In infrastructure, just to give you a quick example, there's a lock on the Ohio River that makes it possible for barges to carry construction equipment and coal and all the things that they move on the river. It's so old that it's literally at a 50 percent chance of cracking in half and falling into the river in the next two years. And if that happened, not only the whole river would be shut down, but construction sites along the river would be shut down. People would lose their job. Traffic on the roads would increase. I mean, that's a real scenario. If that happened, I don't think anyone in my district is going to look at me and go, "Well, yeah, Conor, that's not your fault because you were fighting with the Republicans about democracy." I mean, there's some basic stuff that we really have to try to get done for our people no matter what.
So you're trying to make the case to your constituents that we need to be able to get these things passed because otherwise your stuff is going to break, and then it's too late for us to fix it.ADVERTISEMENT
I would actually reverse it. I think that's the case my constituents make to me on a pretty regular basis. And I agree with them. I think that we have to be able to do multiple things at once. But I'll also say that my view on the filibuster, on the commitment to democracy that we have to have and the intensity with which we have to have that debate—that has evolved in three years. So I'm learning on the job and I'm trying to achieve this balance right now of working with the Republicans. And when I say the Republicans, really I'm mostly working with Republicans who did not vote to overturn the election. Many of the ones I'm working with voted to impeach Trump the second time.
Can you tell me about that evolution? You've said, "I practice bipartisanship because it's supposed to get results." But I think a lot of people would say it hasn't been getting results for a while.
I always challenge people to make sure we know what we're talking about when we say we're not getting results, because we actually have, even in the depth of the Trump era, we've gotten bipartisan results on important topics. The same week that we did impeachment in the House the first time, we did the USMCA [United States–Mexico–Canada Agreement], probably the most important trade agreement in the United States in the last almost 30 years, by a massive bipartisan vote. And there have been other examples like that. So it still does happen, even though people correctly perceive that we're in much more partisan times.
"If we can't agree to have a peaceful transition of power, the rest of it doesn't really matter."— Rep. Conor Lamb
But I think the last three years have taught me that the Republicans have really made this whole attack on the ease of voting, and more generally an attack on telling the truth and meaning what you say and basing your statements on facts and true observations about the world—they've really made it a core pillar of their party because they have tied themselves so tightly to Trump. I don't think every Republican walking around thinks that way, but they have all made the decision basically that he's the head of their party, and so now all that really matters is what he wants or what pleases him. And Jan. 6 really revealed just how dangerous and sinister of a development that that is. …CONTINUED
Continue reading