Work Slowdown at Busiest U.S. Port Prompts Plea to Obama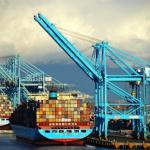 U.S. retailers appealed to President Barack Obama [1] to intervene in contract negotiations between West Coast dockworkers and maritime companies after a work slowdown spread to the nation's largest container hub ahead of the holiday shopping season [2].
The National Retail Federation [3], the world's largest retail trade association, asked Obama to step in and ensure that tensions between the International Longshore and Warehouse Union and the Pacific Maritime Association, representing terminal operators and shipping lines, don't "escalate to a complete shutdown of West Coast ports."
Goods destined for holiday shoppers are being unloaded at 29 ports from San Diego [4] to Bellingham, Washington [5], by workers who have been without a contract since July 1. The maritime association said a slowdown that began in Seattle and Tacoma spread to Los Angeles [6] and Long Beach [7], the busiest port complex in the U.S. Those ports already face congestion from equipment shortages and rail delays.
"This is adding to the already substantial list of issues contributing to congestion," Bruce Chan, associate transportation and logistics analyst at Stifel, Nicolaus & Co., said yesterday by telephone from Baltimore. "We're OK as far as items on the shelves are concerned. What we'll probably see is some cost pressure for shippers and retailers potentially filtering down to consumers."
The maritime association says the longshore union refused to supply workers to operate so-called yard cranes that place cargo containers on trucks and railcars.
20,000 Dockworkers
The slowdown [8] came after the maritime association responded to a union proposal, Wade Gates, a San Francisco-based spokesman for the shippers, said yesterday by e-mail, without elaborating. Negotiations have been under way since May to replace a six-year contract that expired July 1.
Craig Merrilees, a spokesman for the 20,000-member union in San Francisco, said the two sides met for negotiations yesterday and the day before.
"That's the way to get the problem solved and the contract resolved so that everything can get back on track," Merrilees said. "The problems in Southern California [9] with congestion and mismanagement go back months and years, and the industry needs to address those self-inflicted causes and not just point fingers at the union."
'Crisis Levels'
The retailers, joined by the Consumer Electronics Association [10] and Toy Industry Association, said in a letter to Obama that congestion at the ports has reached "crisis levels" and described the potential impact on businesses as catastrophic.
In 2002, President George W. Bush [11] invoked the Taft-Hartley Act to obtain a court order to reopen the ports after a 10-day lockout when contract talks broke down. Obama's press office didn't immediately respond to telephoned and e-mailed requests for comment.
The Port of Los Angeles accounted for 31.2 percent of tonnage entering the West Coast in 2013, while the neighboring Port of Long Beach accounted for 29.7 percent, according to a report [12] by the maritime association.
Phillip Sanfield, a spokesman for the Port of Los Angeles, declined yesterday to comment on the maritime group's assertions. Art Wong, a spokesman for Long Beach, said the number of ships waiting to anchor at the port rose by two yesterday.
On Nov. 5, "we only had one ship waiting and, for a few days before that, we had none," Wong said by telephone. "I don't know if it's related to this. I was hoping it was going to be just a one-day thing, until I saw this thing about a slowdown."