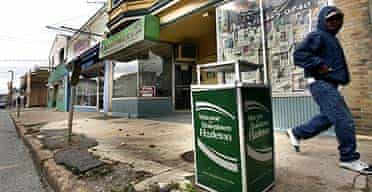 By Andrew Cuff
TribLive
Dec. 18, 2021 – To many Americans, the regions surrounding Pittsburgh have become a collection of "ghost towns" to avoid or a lost culture to elegize. Western Pennsylvania is now a socially acceptable target for stereotypes conjuring images of blighted vacant lots, shuttered mills and welfare recipients addicted to painkillers.
Even the familiar term "Rust Belt" lends itself to images of decline. Showtime's new small-town Pennsylvania drama "American Rust," which one reviewer called a "badly written chunk of misery porn," subjects viewers to tropes like teen criminality, desperate and unemployed parents with starving kids, and cold, unloving neighbors. The show dramatizes every cherry-picked anecdote and caricature wielded by Politico in one 2017 report on the Trump voters of Johnstown.
But Johnstown community leaders responded brilliantly to Politico's depiction of their neighborhoods. Their argument — that focusing only on the negative is disingenuous — holds true in 2021, too. While pessimists insist that 2020 census data herald demographic disaster in Pittsburgh's outlying counties, including Johnstown's Cambria County, a balanced look at the numbers tell a different story.
It's true that three of Pennsylvania's eight western counties, the most rural ones, saw a significant decline in population from 2010 to 2020. This 6% average decline likely is due to aging, death or outmigration. The region as a whole grew, but only by 0.5% — a rate that lags the state and national averages (2.4% and 7.4%, respectively).
But comparing these numbers with the 2000 and 2010 census shows these statistics are well within the margin of natural fluctuation or at least remain on steady pace with trends that date to the 1950s. If anything, Western Pennsylvania is not experiencing any truly worrying trend of "population drain" — at worst, it is seeing merely plodding growth.
Besides, population explosions are not always a good thing. Outgoing Pittsburgh mayor Bill Peduto has spent six years furiously trying to reverse the city's seven-decade trend of population loss, focusing on quantity at the expense of quality. Mayor-elect Ed Gainey, who defeated Democrat Peduto in May's primary, emphasized the city's strengths — hospitality, flexibility and culture — as a blueprint for reform. Pittsburghers don't want to create an unlivable city just to meet an arbitrary population goal.
This outlook is even more prevalent in Western Pennsylvania's small towns. Ask any resident of Greensburg or Irwin, for example, if their priority is flooding their towns with new residents. If such places were in demographic crisis, that goal might make sense. Instead, these small towns have focused on stability during and after covid, especially for their small business communities.
A localist philosophy was key to these towns' resilience during the pandemic. According to the Pennsylvania Economic League of Greater Pittsburgh's Business Conditions Survey, 65% of the region's small businesses (100 or fewer employees) reported steady or increased demand for their goods and services by December 2020. And this September, 89% of small businesses reported staffing remained steady or increased quarter over quarter in 2021, while 40% of small businesses have raised wages since May.
That's because small-town consumers made it a point to buy local during and after the pandemic, a trend evidenced early on by April 2020 survey results from the National Retail Federation. The success of Community Supported Agriculture (CSA) co-ops also made an impact in Western Pennsylvania, where ubiquitous farmers markets constitute a genuine parallel grocery option.
One example of a business bolstered by loyal customers during the pandemic is Disobedient Spirits, a craft distiller in Indiana County's Homer City. Manager Rachel Russell described the phenomenon as a "shutdown surge," telling me that statewide pandemic restrictions lost them plenty of bar and table business, but individual sales shot up. "For a few weeks, orders were off the charts because we were the only place to buy liquor for miles in any direction," she recalled. "It dropped some after the state-owned stores reopened, but we kept a lot of regulars."
With this buy-in from the community, small-town leaders were able to invest in local initiatives spotlighting local distinctives. Forest County's Marienville, for instance, has made the most of its unique snowmobiling trails, becoming a tourism and retirement destination with skyrocketing property values.
Downtown revitalization efforts like the Main Street beautification in my hometown of Latrobe generate unparalleled resilience and small business growth, according to the Brookings Institution.
Structural changes that will persist after the pandemic suggest that the region's small towns are likely to get even stronger. Highly educated remote workers are exiting expensive cities in historic numbers, and small-town living is the best way to stretch their dollar — especially during the current hyperinflation and tight housing market. Others fleeing social unrest, politicized school districts or exorbitant covid restrictions will follow the same pattern.
Now is Pennsylvania's moment to strengthen small towns by giving them room to be unique. Regulations, bureaucracy, and heavy taxes – whether imposed from Harrisburg or Washington — will only burden small towns with the same economic sluggishness as major cities. These places are a hedge against centralization and inequality, often representing the last sound option for millennials or minorities to own homes, start businesses and raise children.
Neither Showtime dramas nor census results capture the strength and resilience of western Pennsylvania. We don't need an elegy — we need to stay the course of community, solidarity and commonsense policy.