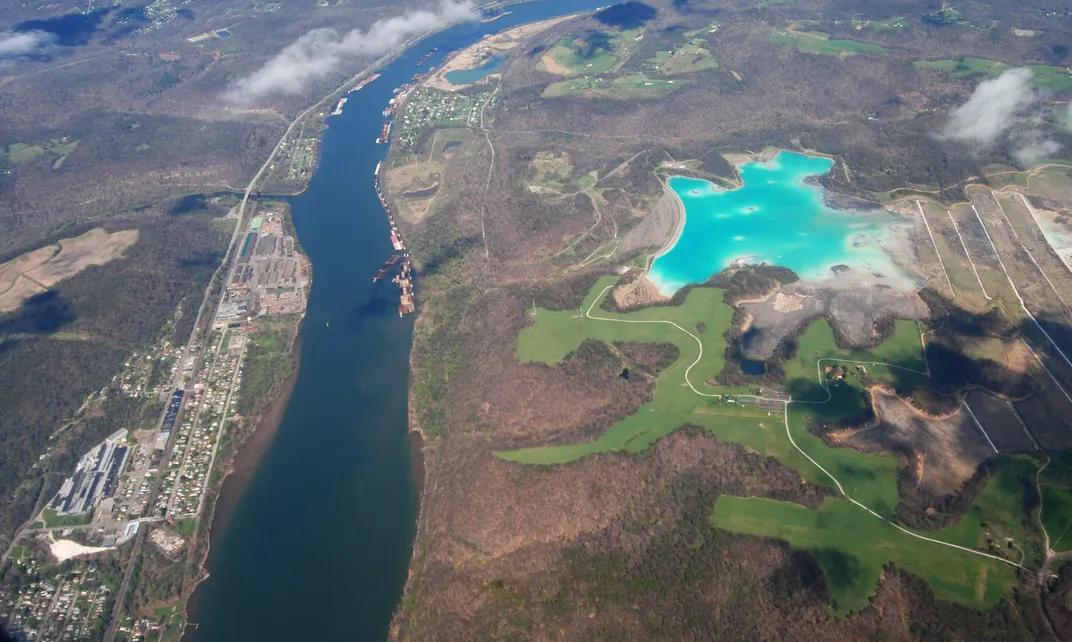 Beaver County's 'Little Blue' waste problem back in the news.
By Daniel Moore
PostGazette Washington Bureau
DEC 31, 2020 WASHINGTON — As President-elect Joe Biden eyes a major federal plan to tackle climate change when he enters the White House next month, his policy team could hit roadblocks as they contend with the breadth of environmental measures rolled back by the Trump administration — and differences within his own party on how to address them.
President Donald Trump has consistently worked through his term to weaken rules put into place by his predecessor — and Mr. Biden's former boss — former President Barack Obama. Mr. Trump's penchant for regulatory rollbacks won him support from the energy industry in the Pittsburgh region, headlining natural gas drilling industry conferences and dispatching his environmental chief to Pittsburgh to finalize the repeal of an Obama-era rule limiting the industry's methane emissions.
Now, Mr. Biden's climate team, introduced at an event in Delaware this month, will be "ready on day one," he said, to assess how to wholly address a complex global problem falling under the jurisdiction of a slew of federal agencies.
Mr. Biden, facing a divided Congress with an entrenched political opposition, could face hurdles in translating his much-debated climate change platform into action. As he did during the campaign, Mr. Biden framed environmental protection as an economic driver that will lift up regions like Pittsburgh — and a key part of any plan that helps the nation heal from the COVID19 pandemic.
Trump administration relaxes deadlines on power companies for coal ash cleanup

"Folks, we're in a crisis," Mr. Biden said during the Dec. 19 event. "Just like we need to be a unified nation to respond to COVID19, we need a unified national response to climate change."
As the incoming administration works to build a climate strategy, it will balance demands for stricter rules from the progressive wing of the party with his pledges to invest in jobs in regions dependent on fossil fuels. Fracking was one of the most politically explosive issues on the campaign trail, with Mr. Biden pledging to reach a carbonfree power sector by 2035 and netzero greenhouse gas emissions by 2050.
On the surface, some climate moves could be simple.
Mr. Biden has said he will put the United States back into the Paris climate accord, which Mr. Trump exited in 2017 by declaring he "was elected to represent the citizens of Pittsburgh, not Paris."
Mr. Biden also could use executive powers to quickly reinstate an array of Obamaera regulations relaxed by Mr. Trump that affect the energy industry, auto manufacturers, construction companies and farmers. He could order federal agencies to consider climate change in their practices and procurement strategies.
Whether Mr. Biden can hit his most ambitious targets, however, will hinge on finding consensus on a comprehensive plan that can pass muster on Capitol Hill.
The president-elect's plan for a "clean energy revolution" and environmental justice pledges a federal investment of $1.7 trillion over the next decade, leveraging other funding sources to reach more than $5 trillion. Cities like Pittsburgh are hoping that includes money for Ohio River Valley communities to launch a largescale transition to clean energy, as Mayor Bill Peduto called for this month.

Biden's oil comments fuel long-burning debate over Pa. energy jobs
"The list of things that need to be corrected are daunting," said Lisa Evans, an attorney specializing in hazardous waste law for Earthjustice, an environmental group.
Ms. Evans, who has advocated for stronger protections around coal ash disposal, criticized the Trump administration when it moved back deadlines for companies to stop dumping the waste in unlined ponds and landfills. She said she wants Mr. Biden to not only reverse those changes but put in place a stronger federal standard than the one Mr. Obama enacted in 2015.
In Pennsylvania, there are 103 coal ash storage and disposal sites, including 20 unlined coal ash ponds and 13 unlined landfills, according to the Center for Coalfield Justice. Coal ash, which contains heavy metals like arsenic, lead and mercury, creates vast sources of potential contamination, as well as huge costs for utility companies that must either retrofit the sites or find alternative storage facilities.
About 30 miles northwest of Pittsburgh, the largest unlined coal ash site in the country, called Little Blue Run, sprawls nearly 1,000 acres in Beaver County and Hancock County, W.Va. The Pennsylvania Department of Environmental Protection ordered the site's operator, FirstEnergy Corp., to shut it down at the end of 2016 amid concerns over groundwater contamination.
Mr. Trump has rushed to pass a number of environmental measures in his final weeks in office.
This month, the Environmental Protection Agency declined to strengthen federal standards governing two key air pollutants, despite calls from public health advocates that lives could be saved with stricter rules.
On Dec. 23, the EPA maintained the current fiveyear standard on groundlevel ozone, the main component of smog, which was last set in 2015. On Dec. 7, the agency retained the 2013 standards for fine particulate matter, which remains an air quality concern in industrial areas like the Mon Valley.
Some scientists criticized the Trump administration's process for updating the fiveyear standards for sidelining health experts. In October 2019, a group of particulate matter experts, including a Carnegie Mellon University professor, met in protest to draw up informal recommendations after the EPA dissolved its authority to meet as an official federal review panel.
On Monday, the EPA announced the first U.S. rules on airplane emissions, aligning with existing international standards that American planemakers are already meeting. The agency acknowledged it is not expecting any decline in emissions as a result of its rule.
Environmental groups have pounced on all of the above and appealed to Mr. Biden to reverse course.
Rachel Cleetus, policy director for the Climate and Energy Program at the Union of Concerned Scientists, said the EPA's soot rule was "rigging the rulemaking process in favor of polluters."
"Next year when the Biden administration takes charge, they must reverse this badfaith rule and restore the EPA's ability to do its job to protect the health of communities around the nation," Ms. Cleetus said.
Still crafting
Mr. Biden is still crafting the specifics of his platform.
Rep. Conor Lamb, DMt. Lebanon, said in an interview last week he has been talking with the Biden transition team on various measures, including a plan to hire workers to plug old gas wells that tend to leak high amounts methane. Mr. Lamb was among a ninemember panel that drafted Mr. Biden's climate change plan in July.
The makeup of Mr. Biden's climate team indicates he will listen to a mix of perspectives in the party.
He selected Gina McCarthy, who served as Mr. Obama's EPA administrator, as the head of the White House Office of Climate Policy. Ms. McCarthy was the architect of the Clean Power Plan, which aimed to reduce by 32% carbon emissions from electricity generation by 2030. The plan, finalized in 2015, was challenged by Republicanled states and repealed by the Trump administration.
Other establishment picks included former Secretary of State John Kerry as an international presidential envoy on climate change, and Jennifer Granholm, a former governor of Michigan, who was nominated to be energy secretary.
Mr. Biden's pick to lead the U.S. Department of the Interior, Rep. Deb Haaland, DN.M., was a cosponsor of the Green New Deal, a resolution that supported by progressive and dismissed as unrealistic by many moderates. Ms. Haaland — who, if confirmed, would be the first Native American cabinet secretary in history — would oversee the management of the country's natural resources, millions of acres of federal lands, and the listing of endangered and threatened species.
Mr. Biden's pick to lead the EPA is Michael Regan, North Carolina's top environmental regulator, who has prioritized protecting communities that disproportionately bear the brunt of pollution.
Lawmakers in Congress have shown some willingness to compromise on climate policies.
In the spending package approved by Congress last week and signed by Mr. Trump on Sunday, Democrats and Republicans agreed to phase out the use of hydrofluorocarbons, powerful greenhouse gases commonly used as refrigerants. The package also authorized energy technology programs and extended clean energy tax credits.
On Monday, Rep. David McKinley, a Republican representing the West Virginia panhandle, joined with Rep. Kurt Schrader, DOre., to introduce a bill to fund clean energy innovation in carbon capture technology, advanced nuclear power, renewable energy, efficiency measures and largescale energy storage.
"America needs energy policy that can endure, rather than one that changes after each election and judicial decision," Mr. McKinley said.
"We can keep fighting each other, but I'd rather tackle some problems," Mr. Schrader added. "This bill will cut carbon emissions quickly, it will invest in a better energy system, and it will empower entrepreneurs and industry to create new technologies and new jobs."
Daniel Moore: dmoore@postgazette.com, Twitter @PGdanielmoore.