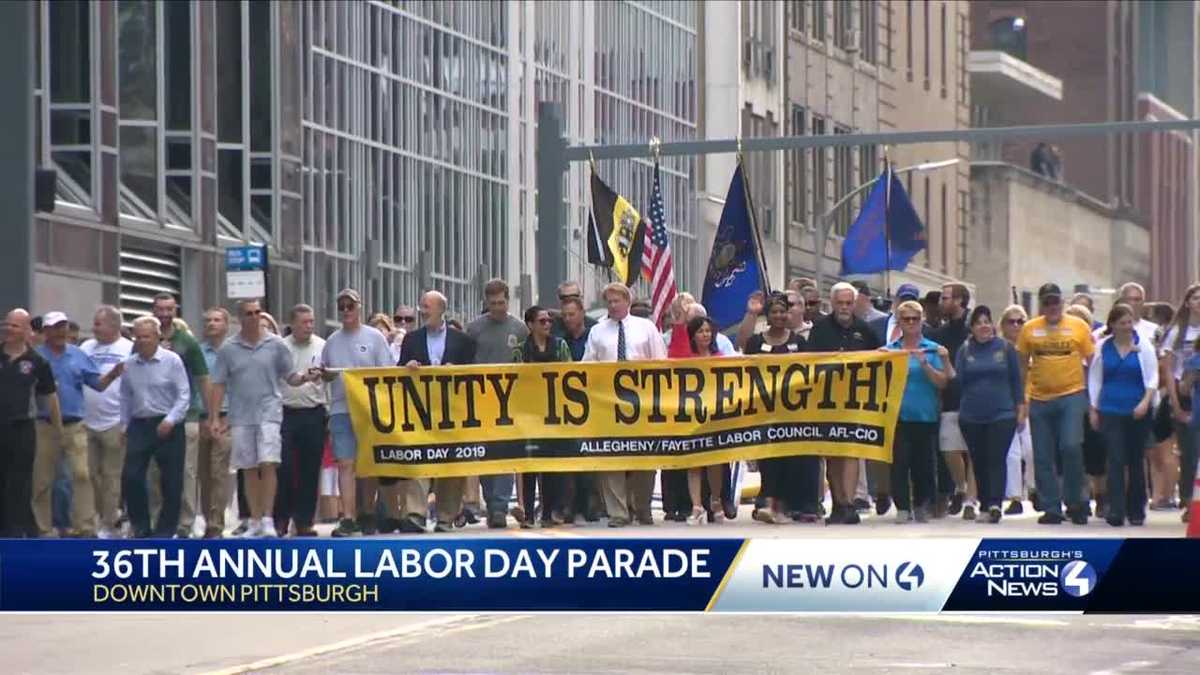 By Marylynne Pitz
Pittsburgh Post Gazette
Mary Kay Henry, president of the Service Employees International Union for nearly 10 years, organized health care employees during the late 1990s at a major Catholic hospital system in California.
Before Pittsburgh's Labor Day Parade began, Ms. Henry urged local union members during a rally at Freedom Corner in the Hill District to continue fighting, despite the legal odds.
"The right to organize doesn't exist any longer in the U.S. We have an 80-year-old law that is broken," Ms. Henry on Monday told a large crowd that included boilermakers, carpenters, journalists, postal carriers, shipbuilders and steamfitters.
"UPMC workers have been trying to form a union since 2012. Ten thousand hospital workers have been trying to get to a bargaining table," Ms. Henry said.
UPMC has announced that its hourly workers will earn $15 an hour in 2021.
The SEIU's plan, called Unions for All, envisions workers organizing and bargaining across industries instead of the workplace-by-workplace system currently used in the U.S.
"Bargaining by industry, where workers from multiple companies sit across a table from the largest employers in their industry to negotiate nationwide for wages and benefits, is standard practice in almost every developed country in the world," Ms. Henry said.
The SEIU also wants to ensure that every public dollar creates union jobs and that every federal worker and contractor earns at least $15 an hour and has the chance to join a union.
One of the UPMC employees who marched in the parade was Nila Payton of East Hills, who belongs to Hospital Workers Rising.
A UPMC receptionist for 13½ years, Ms. Payton said a union survey found that at least 5,000 UPMC employees are in debt to their employer for medical care.
"They steer us to Medicaid. Some of us make too much to get Medicaid. Some people are actually scared of going to the doctor for fear of going into medical debt," Ms. Payton said.
U.S. Rep. Conor Lamb, D-Mt. Lebanon, said federal labor law is "in urgent need of an update" because employers can play "lots of tricks" to delay bargaining.
"We need to level the playing field, " Mr. Lamb said.
Lt. Gov. John Fetterman, the former mayor of Braddock, served as the parade's grand marshal. Other politicians attending included Allegheny County Executive Rich Fitzgerald and state Sen. Jay Costa, D-Forest Hills.
Marchers walked down Grant Street, past the historic marker for Henry Clay Frick, just outside the building named for the industrialist.
Many trade unionists remember Frick for provoking violence by hiring 300 Pinkerton agents armed with Winchester Rifles during the bloody Homestead steel strike of 1892.
On the Boulevard of the Allies, where the parade ended, marchers passed the Red Door, where volunteers at St. Mary's Parish were giving sandwiches to the homeless.