Democrats have a rural problem in Southwestern Pennsylvania's 12th Congressional district
Posted By Ryan Deto on 
Fri, Jul 14, 2017

 at 

2:52 PM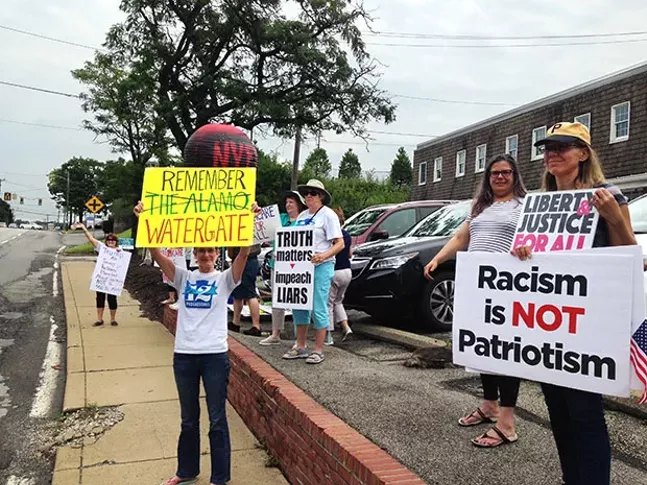 On July 12, a group of left-leaning protesters rallied outside of U.S. Congressman Keith Rothfus' (R-Sewickley) office in Ross Township. They were some 15 members strong, and they hooted and hollered for an hour, expressing displeasure with their representative for failing to hold a town halland his support of the Republicans' attempt to repeal the Affordable Care Act.
"We are here to keep the momentum going and show how [Rothfus] is not representing us," said Michelle Raab of PA 12 Progressives, the group that organized the protest.
PA 12 Progressives has been demonstrating outside of Rothfus' North Hills office every Wednesday for months and has even started to attract Republican counter-protesters. On July 12, three counter-protesters held signs reading "Drain the Swamp" and "Support Trump," but they were overwhelmed by the energy coming from the PA 12 progressives, who even had a truck clad in protest signs drive by every few minutes to garner more attention.
While the group's energy in suburban Allegheny County is starting to shift the traditionally Republican area's support from red to blue, it's the fight outside of suburbia that Rothfus opponents may want to focus more energy on.
When Rothfus won re-election in 2014, he received 60 percent of the vote in the Allegheny County section of his district, which includes wealthy northern Pittsburgh suburbs like Fox Chapel, Franklin Park and Pine Township. In 2016, he received 59 percent. While modest, this shift fits into the nationwide trend of upper-income suburban areas increasing their support for Democrats.
But outside of Allegheny County, Rothfus has been increasing his support which could render any suburban shift moot. The 12th District includes parts of six Southwestern Pennsylvania counties, stretching from Ellwood City to Somerset. Every county in the 12th District outside of Allegheny has become more Republican since Rothfus took office, but none as much as the Cambria County section.
In 2012, Rothfus lost the Cambria County section to former Rep. Mark Critz (D-Johnstown), only receiving 37 percent of the vote there, even though he won the district that year. In 2014, Rothfus won Cambria County with 56 percent of the vote against Democratic challenger Erin McClelland, and in 2016, increased his Cambria County margin receiving 65 percent of the vote. In just four years, Rothfus gained more than 27 percentage points against Democratic rivals and swung Cambria County from solidly Democratic to solidly Republican.
Mary Lou Davis, of the liberal-leaning, grassroots group Indivisible Johnstown, says this shift will make flipping the 12th District a difficult task. "We are as red as we can get right now," she says.
Davis explains that Cambria County was never "quite as liberal" as Pennsylvania Democratic strongholds, like Philadelphia and Pittsburgh, even though it remained in Democratic control under former Rep. John Murtha (D-Johnstown) and Critz for 39 years. She says some culturally conservative values, like pro-life stances and gun rights, have always remained important to many Cambria voters.
And while Indivisible Johnstown is not a proponent of those culturally conservative values, Davis does feel a focus on the rural parts of the 12th District would be most effective in getting a Democrat elected.
"I think the messaging needs to sway the Cambria County voters more than the Allegheny voters," says Davis.
She says this is crucial because unlike other gerrymandered, suburban/rural Pennsylvania districts, the 12th district is still gaining Republican votes. For example, in Pennsylvania's 7th District, which stretches from suburban Philadelphia to Berks County and has been mocked for looking like Donald Duck kicking Goofy, Democrats actually gained two percentage points from 2014 to 2016. But in the 12th District, Republicans gained 5 percentage points, even as the Allegheny County portion (the most suburban part of the district) became slightly more Democratic.
"The Democrats had put out a target list of flippable seats, most of those were moderate," says Davis of a list release in January targeting 59 Republican-held U.S. House seats. "But we have a situation here [in the 12th District], and it is going to be extremely hard to flip this."
Meanwhile, Rothfus appears to know his support in Cambria County and adjacent Somerset County (which has increased its support of Rothfus by 22 percentage points up to 76 percent of the vote since 2012) is important. Since being re-elected in November 2016, Rothfus has penned three op-eds in the Johnstown Tribune-Democrat, which covers Cambria and Somerset counties; during this same time, he he has only co-written one in the Pittsburgh Post-Gazette, while providing none to TribLive.com or the Beaver County Times.
On top of this, Davis says providing messaging for a strong Democratic candidate won't be easy. With President Donald Trump and Rothfus remaining popular in the region, she says Democrats will have to offer an especially strong counter-narrative to persuade area residents to vote Democrat.
Tom Prigg (D-McCandless), a candidate for the 12th District, has discussed the importance of messaging to rural voters and has received coverage from the Tribune-Democrat. Another candidate, Aaron Anthony (D-Shaler), was featured in Somerset's The Daily American, but candidate Beth Tarasi, of Sewickley, has yet to receive any coverage in Cambria and Somerset counties.
Davis is hopeful that Rothfus' challenges will get more coverage over time, and says Indivisible Johnstown is hosting a candidate forum on Aug. 8, so area residents can meet the Democratic candidates.
"This might be the first time the names and faces of the candidates running against Rothfus are out there," says Davis.