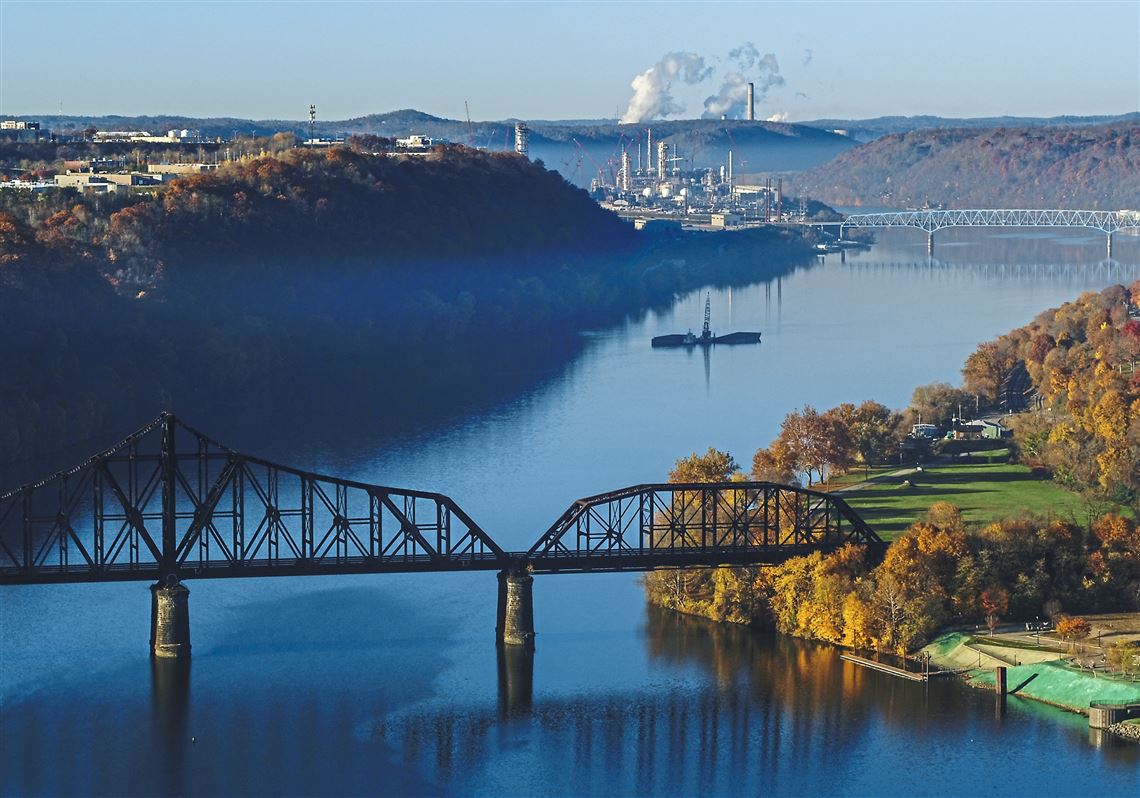 By Erika Strassburger
Re-Imagine Appalachia
via Pittsburgh Post Gazette
April 12, 2021 – On March 31, President Joe Biden came to the Pittsburgh metro region to announce the American Jobs Plan. As he put it, he was here to "lay out how we rebuild the backbone of America."
It was only appropriate that he unveiled his plan to rebuild America here, the center of a region with a rich industrial legacy, but where decaying infrastructure, a shortage of middle-class jobs, and racial inequity underscore the need to build back better.
Our region is known for resiliency and getting up when knocked down. We produced nearly half of the nation's steel as late as the mid-1950s. But our economy was left in tatters when the domestic steel industry collapsed in the 1980s. Hundreds of thousands of workers saw their incomes drop by a fifth, a third, sometimes half. The wages of white, non-college educated men plunged. The wages of Black men plummeted even more, undercut by the tradition of "last in, first out" in the mills.
The riverfront steel mills of the Mon Valley are mostly gone now. We've also seen Pennsylvania's southwest corner and West Virginia neighbors struggle with the boom and bust cycle of the coal industry.
So how do we build back better — and achieve a strong, diversified economy with good wages?
Mr. Biden is thinking big. Just one among many of the goals laid out in his speech was a commitment that "the American Jobs Plan will put plumbers and pipefitters to work replacing all lead pipes and service lines to save our children's health and clean drinking water." As a member of the Pittsburgh Water and Sewer Authority Board, this is a promise that will benefit not only our children today, but every future generation.
One inspiring, big vision for infrastructure spending comes from ReImagine Appalachia, a broad coalition of groups deeply rooted in Pennsylvania, Ohio, Kentucky and West Virginia. ReImagine Appalachia has understood and seized on the significance of a politically powerful new reality: The aggressive investments our nation must make in infrastructure, including to avoid catastrophic climate change, will create a massive number of trades and industrial jobs.
An economic study commissioned by ReImagine Appalachia shows that its policy blueprint, if implemented, would create 243,000 jobs in Pennsylvania alone. This plan would deliver the economic opportunities the working people of our region hunger for, and lay the foundation for sustainable growth that builds local wealth rather than filling the pockets of absentee corporations.
ReImagine Appalachia's transformational infrastructure investment plan includes clean energy such as the rapidly expanding solar and wind industries. It also includes a whole lot more, such as broadband expansion, electric cars and buses, and clean manufacturing to supply "buy local" materials and products. (Continued)
It includes building a more sustainable transportation system by laying rail and expanding infrastructure for electric vehicles fueled by renewables. Just as a starting point, unionized trades could expand the Port Authority's Martin Luther King Jr. East Busway to expand transportation access to communities that need it the most.
It includes a modern version of the New Deal's Civilian Conservation Corps (CCC) — a concept championed by Sen. Bob Casey, D-Pa. This CCC would put people to work planting trees, restoring wetlands and helping farmers adopt sustainable, carbon-absorbing agricultural practices.
By giving hiring priority to the jobless, including returning citizens snared in the "war on drugs" and opioid epidemic, a 21st-century CCC could also combat racial injustice and help families and communities heal.
Local groups like Landforce in Pittsburgh are already hiring skilled crews to restore and maintain land. Landforce recruits and trains adults who have faced structural barriers to stable, family-sustaining employment based upon race or addiction.
Scaling up this model, a modern CCC could massively expand green infrastructure that buffers against the major rainfalls and flooding that climate change is bringing.
The jobs created by implementing the ReImagine vision could also redeploy existing skills and infrastructure. We can repurpose shuttered coal plants and turn them into "eco-industrial parks." We can reclaim abandoned mine lands and cap orphan oil and gas wells, supporting tens of thousands of trades jobs for decades.
President Biden came to this region on March 31 for a reason. The American Jobs Plan will have effects across the country and the globe. But the president seems to be borrowing heavily from initiatives that began in our region: ReImagine Appalachia's Blueprint, and the mayors' Marshall Plan for Middle America, for which our own mayor has been a leading voice.
In his visit to our area, the president acknowledged our role in America's past economic prosperity. He also highlighted that we can create a new era of shared prosperity in the Ohio River Valley and across America. I agree, and I look forward to fighting to make this vision a reality.
Erika Strassburger serves on the Pittsburgh City Council representing the city's 8th District.